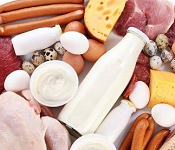 Looking for a farm or ranch for fresh meat, milk or eggs in Southeastern Washington State? Scroll down this page and you will see the aall of thoses in Southeastern Washington State, sorted by county. Some are organic ALWAYS call before you go to confirm the info, they don't always report changes to me!
And if you know of one I missed and want to add it or correct the information, please let me know! There are affiliate links on this page. Read our disclosure policy to learn more.
Updates for February 2021
February It's a pretty normal year for meat, milk and eggs, unless you are in the areas affected by the hurricanes.
Local meat, milk and eggs ranches and farms, by county
Click on Resources above, if you need a county map
Adams County
Carniceria Mexico - Beef,
624 S Andes Rd, Othello, WA 99344. Phone: 509-488-0222.
Jahns farm - Certified Organic Beef
615 S O'Brian Rd, Othello, WA 99344. Phone: 509-488-2055.
Paha Farms - grass fed and finished beef
1250 E Timm Ln, Ritzville, WA 99169. Phone: 509-650-7003. We raise grass fed and finished livestock. Our goal is to provide well-fed lean meats to our customers. We are a small operation seeking customers that are interested in knowing where their foods come from. Our animals are born and raised on the farm and are fully finished on grass and processed locally by a USDA licensed facility.
Asotin County
Clarkston Heights Meat Market - beef, lamb, and goat
2454 Appleside Blvd, Clarkston, WA 99403. Phone: 509-758-5431. We are a custom meat cutting shop. We process beef, sheep, and goats. As of Jan.1 2018 we also process pigs.
Columbia County
Franklin County
Garfield County
Walla Walla County
Whitman County
Maple K Farms - Grass-fed, Grass-finished Beef, Registered Highland Cattle
1102 Kammerzell Rd, Colfax, WA 99111. Phone: 509-397-4589. Email: maplekfarms@gmail.com. Open: call or email for hours. Maple K Farms is a small operation that has grown from 8 acres and 6 head of cattle to approximately 300 acres and over 40+ head of cattle in 20 years. Beef is sold directly from the farm in 1/4 , 1/2 or whole. Our cattle are raised on lush open pastures with abundant cool clear streams and springs. For the last 60 to 90 days the cattle are placed on our best pastures to achieve the best grass finish. The harvest animals are moved to the home corrals 24 hours prior to processing. After harvest, the beef is transported to the processor and dry aged up to 10 days, cut and wrapped to customer order, and then flash frozen.