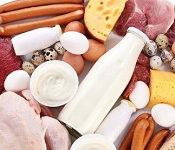 Looking for a farm or ranch for fresh meat, milk or eggs in California? Scroll down this page and you will see the aall of thoses in California, sorted by county. Some are organic ALWAYS call before you go to confirm the info, they don't always report changes to me!
And if you know of one I missed and want to add it or correct the information, please let me know! There are affiliate links on this page. Read our disclosure policy to learn more.
Updates for October 2023
October It's a pretty normal year for meat, milk and eggs, unless you are in the areas affected by the hurricanes.
Local meat, milk and eggs ranches and farms, by county
Click on Resources above, if you need a county map
San Mateo County
Markegard Family - Grass-Fed, grass-finished beef, lamb, pasture raised chicken, pasture raised pork,
20080 Cabrillo Hwy S, Half Moon Bay, CA 94019. Phone: (650) 670-7984. Email: info@markegardfamily.com. Open: see their page. Markegard Family Grass-Fed provides the community with locally born, raised and processed certified grass-fed and grass-finished beef and lamb, as well as pasture raised chicken and pork. Our customers can order regenerative meats online through our shop to be delivered around the Bay Area or at Farmers Markets. Make sure to check out our CSA
Our ranch is pesticide and chemical fertilizer free. Our cattle and sheep are never grain fed or given synthetic hormones or antibiotics.
No genetically modified organisms (GMOs).
Raised on a family ranch.
Cattle are not put in feedlots and only finished on grasslands.
San Francisco