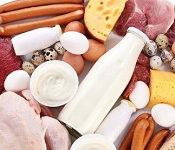 Looking for a farm or ranch for fresh meat, milk or eggs in Ventura County, California? Scroll down this page and you will see the aall of thoses in Ventura County, California, sorted by county. Some are organic ALWAYS call before you go to confirm the info, they don't always report changes to me!
And if you know of one I missed and want to add it or correct the information, please let me know! There are affiliate links on this page. Read our disclosure policy to learn more.
Updates for October 2023
October It's a pretty normal year for meat, milk and eggs, unless you are in the areas affected by the hurricanes.
Local meat, milk and eggs ranches and farms, by county
Click on Resources above, if you need a county map
Ventura County
Novy Ranches - Grass Fed Angus Beef, bulk retail
801 E Los Angeles Ave, Simi Valley, CA 93065. Phone: 805-217-7152. Email: grassfed@novyranches.com. Open: call for hours. Beef cuts STEAKS, ROASTS, GROUND BEEF & RIBS, SAUSAGE & BEEF STICKS, BONES & ORGANS. Novy Ranches facebook page. (ADDED: September 30, 2023, JBS)
TX Grass Fed Beef - Grass Fed Angus Beef, bulk retail, 100% Grass Fed, Grass Finished, No antibiotics used, no hormones used, 100% Humanely Treated
10910 Shasta Blvd, Los Molinos CA, 96055. Phone: (530) 309-1865. Email: txbargrassfed@gmail.com. Open: order online. Purchase bulk grass fed beef you are saving on unnecessary and timely trips to the grocery store and we all know how unbearable and inconvenient these can be at times. With your bulk grass fed beef purchase you will have all the beef you need for the foreseeable future right there in your own freezer. (ADDED: September 30, 2023, JBS)
The Ventura Meat Company - Butcher shop
2650 E. Main Street, Ventura, CA 93001. Phone: (805) 648-6942. Open: Wednesday through Sunday from 10 am to 4 pm. The Ventura Meat Company is the first sustainable butcher shop serving Ventura residents with grass-fed beef, organic poultry, and pasture-raised pork. The Ventura Meat Company's aims to source exclusively from small, family-owned farms. The Ventura Meat Company is a locally-owned business run by Owner/Operator Michael Buckley. The Ventura Meat Company's mission is to provide sustainably raised meats to the Ventura community. To us sustainable means:
Humanely treated livestock
Access to ample pasture
Livestock fed their natural and obligate diets
Our respect for sustainable farming, is only matched by our respect for our customers. We will strive on a daily basis to maintain the highest levels of customer service. Any question or concern will be met with honesty and gratitude.