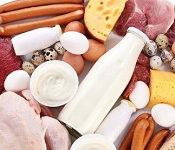 Grades of Dairy: Milk, Butter and Cheese Explained
In the United States, there are 2 grades of milk, Grade A and Grade B. Since fluid milk is susceptible to bacterial contamination, more stringent health and sanitation standards apply to Grade A milk which is consumed as a liquid than Grade B milk, which used for butter, cheese, and other manufactured products. Currently, more than 90 percent of commercial milk production is classified as Grade A, and more than one-half of the Grade A milk supply ends up being used in manufactured dairy products.
Grade A Milk
Is milk made according to the strictest sanitary regulations prescribed, inspected, and approved by public health authorities. In most consumer markets, this is the grade of milk used in any products intended for consumption in a fluid form. Grade A is sometimes also called fluid grade milk or market milk
Grade B Milk
Never seen on store shelves, Grade B is milk that is produced and processed according to sanitary regulations but is approved by public health authorities be used only for manufactured food products. It is also called manufacturing grade milk.
Grade AA, A or B Type:
Consumer Status: In use since 1947 This shield applies to butter and cheeses that have United States grade standards. These standards are based on measurable attributes, such as flavor, body, and texture that describe the value and utility of the product. USDA must grade the butter and cheese in the final package. The designated grade could be AA, A, or B.
Currently, AA is only used for butter.
U.S. Extra Grade Type:
Processor/Industry Status: In use since 1952 This shield applies to dairy products, such as non-fat dry milk and bulk American cheese, that have grade designations other than letters. Any product with this label attached would have to be graded prior to the product leaving the control of the manufacturing facility.
USDA Quality Approved Type:
Processor/Industry Status: In use since 1952 This shield is applied to any dairy product package that does not have an established United States grade standard. This shield could be used on margarine or a non-standardized cheese, and reflects USDA's evaluation of flavor, body, texture, and other quality attributes. Any product with this label attached would have to be graded prior to the product leaving the control of the manufacturing facility. Agricultural Marketing Service G
Butter
Butter is graded by color using a color card (see at right)
There is a standard for how to perform the evaluation, see below: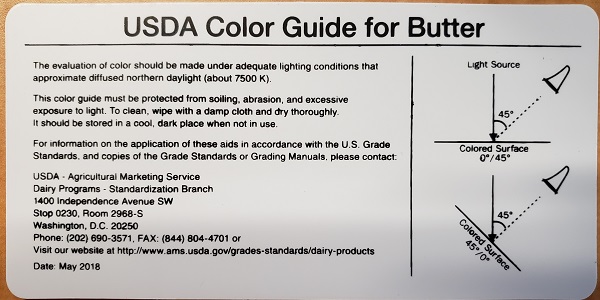 References