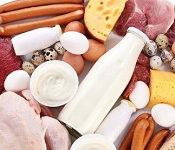 Looking for a farm or ranch for fresh meat, milk or eggs in northwest Illinois? Scroll down this page and you will see the aall of thoses in northwest Illinois, sorted by county. Some are organic ALWAYS call before you go to confirm the info, they don't always report changes to me!
And if you know of one I missed and want to add it or correct the information, please let me know! There are affiliate links on this page. Read our disclosure policy to learn more.
Updates for May 2023
May It's a pretty normal year for meat, milk and eggs, unless you are in the areas affected by the hurricanes.
Local meat, milk and eggs ranches and farms, by county
Click on Resources above, if you need a county map
Bureau County
Carroll County
Henry County
Jo Daviess County
Lee County
Mercer County
Ogle County
Pete's Poultry - Eggs (free range), Eggs, Brown eggs, Specialty eggs (see below), Fresh eggs
8250 North Junction Road, Davis Junction, IL 61020. Phone: 815-393-6090. Alternate Phone: 1-779-771-4593. Email: pselby007@yahoo.com. Open: Saturdays and Sundays, from 8am to 3 pm, or by appointment; Hatching eggs via email or website for purchase. Directions: Click here for a map and directions. Payment: Cash, only. We are a NPIP participant maintaining a closed flock. For bio-security reasons, no one is allowed access to our birds for any reason. Heritage, Rare Breed hatching eggs available. See website for breeds and availability. Narragansett Heritage Turkey eggs available Spring 2014 .
Putnam County
Rock Island County
Reason's Prairie Pride Meats - Beef, Natural Beef, Buffalo, Elk, Deer, Pork, Lamb, Fish & Seafood, Fruits & Vegetables
18510 206th Street West, Buffalo Prairie, IL 61237. Phone: 309-537-3424. Fax: 309/537-3424. Email: amy@reasonsprairiepride.com. They have Prairie Pride brand buffalo sausages, snack sticks, hot dogs, jerky, elk sausages and snack sticks, rabbit sausages and snack sticks.
Stark County
Stephenson County
Wishful Acres Farm - Chicken (free range), Beef, USDA Natural, No hormones used, No antibiotics used, 100% grass and/or grain fed, Eggs (free range), Brown eggs, Fresh eggs
4679 N Flansburg Rd, Lena, IL 61032. Phone: 815-990-2380. Email: wishfulacres@gmail.com. Open: by appointment, email us. Directions: We are easy to find, right off of Highway 20, midway between Rockford and Galena, Illinois. Click here for a map and directions. Payment: Cash, only. Click here for our Facebook page.
Whiteside County
Winnebago County