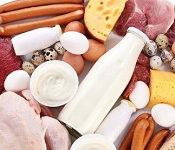 Looking for a farm or ranch for fresh meat, milk or eggs in Augusta and surrounding counties of Maine? Scroll down this page and you will see the aall of thoses in Augusta and surrounding counties of Maine, sorted by county. Some are organic ALWAYS call before you go to confirm the info, they don't always report changes to me!
And if you know of one I missed and want to add it or correct the information, please let me know! There are affiliate links on this page. Read our disclosure policy to learn more.
Updates for May 2021
May It's a pretty normal year for meat, milk and eggs, unless you are in the areas affected by the hurricanes.
Local meat, milk and eggs ranches and farms, by county
Click on Resources above, if you need a county map
Androscoggin County
Kennebec County
Pine Bluff Farms - Chicken (NOT free range), Chicken (free range), Turkey, Beef, Pork, No hormones used, No antibiotics used, 100% grass and/or grain fed, snacks, refreshments and/or concessions, Eggs, Brown eggs, sausage, Bacon (pork), Smoked meats, Farm market with fruits and vegetables, Farm/ranch tours for visitors, children welcome, No pets please, Turkeys, Fresh eggs, gift shop, farm animals, school tours
183 Pond Road, Mount Vernon, ME 04352. Phone: 207-242-8763. Email: jwiles@earthlink.net. Open: March - after Christmas Wednesday to Sunday 9am to 5pm. Directions: Click here for a map and directions. Payment: Cash, Check. Click here for our Facebook page. Only take local checks. Otherwise CASH ONLY. Beautiful Mums in a variety of colors, shapes and sizes available in the Fall for purchase. Lots of gifts and crafts Made in Maine.
Knox County
Spear Spring Farm - -

Uses integrated pest management practices

, Fresh eggs, Honey from hives on the farm, farm market
1384 Atlantic Highway, Warren, ME 04864. Phone: (207) 232-8247. Email: jamien@spearspringfarm.com. Open: Click here for current open hours, days and dates. Directions: From Route 1 heading North: Go 1.5 miles past the turn off for Route 90, past the Shell Station and past Mainely Poultry on your left. The farm is on both sides of the road, just past Mainely Poultry, and the farm stand is on the right side of the road. From Route 1 heading South: Go through Thomaston Village and continue on Route 1 until you see School House Farm on your right. The farm stand is just another quarter of a mile past School House Farm on the left. Click here for a map and directions. Payment: Cash, Debit cards, Visa/MasterCard, Discover, AmEx. Click here for our Facebook page. We are an "organic practice" farm, using only Integrated Pest Management and growing all our veggies, fruit and honey with an eye to the health of the land and all its inhabitants. We sell local craft beer and wine, select local dairy products and artisan cheeses, frozen meals, herbs, coffee, woodwork and gifts, and so much more! All products are from Maine. On our historic 170 acre farm we grow vegetables intensively on about 4 acres and make good use of a large high tunnel and a year-round propagation house. We cover crop another 5-10 acres and work hard to improve our soil health and farm in harmony with our land and all its inhabitants. We do not use pesticides of any kind and use integrated pest management techniques to protect our crops. We sell our food to local markets, restaurants, caterers and in our roadside farm stand. (ADDED: July 14, 2020)
Lincoln County
Sheepscot General at Uncas Farm -

Certified Organic

, Chicken (free range), Duck, Beef, Pork, Lamb, Certified USDA organic, 100% Grass fed (includes finishing), Unpasteurized organic cow milk, Eggs (free range), sausage, Bacon (pork), Farm market with fruits and vegetables, Snack bar, Fresh eggs, Cider mill (fresh apple cider made on the premises), picnic area
98 Townhouse, Whitefield, ME 04353. Phone: 207 549 5185. Email: sheepscotgeneral@gmail.com. Open: See our website for current hours; Click here for current open hours, days and dates. Directions: Click here for a map and directions. We are certified organic for some crops. Payment: Cash, Check, Debit cards, Visa/MasterCard, SFMNP Vouchers. Click here for our Facebook page. Sheepscot General is a small grocery offering locally produced foods alongside items from distributors. We are located on a picturesque farm in the Sheepscot River valley. Besides the store we offer free wi-fi, a lending library, and an art gallery/community room where we host monthly open-mic, movies and lectures.
The Switchback Farm - honey, pork, eggs, farmstand
195 Morgan Hill road, Nobleboro, ME 04555. Phone: (207) 563-8636. Open: see their website. We are a small family farm just getting started in Maine's Midcoast. We enthusiastically support and practice sustainable and organic farming!
Forest Raised Mangalitsa pork Usda Certified. Email to order. Considered the kobe beef of pork We treat are bees with all organic non chemical treatments are honey is not certified organic, the bees are on organic property.
Mangalitsa Pigs - Vegetables - Free Range eggs - Honey. Eggs: Pasture raised on organic land. ur diverse flock provides the most beautiful eggs. Free range, rotated on pasture, cage free Click here for a link to our Facebook page. (ADDED: October 20, 2020, JBS)
Lincoln County
Sagadahoc County
Waldo County
North Branch Farm - Beef, Pork, Certified USDA organic, 100% Grass fed (includes finishing), No pets please,
122 Stream Rd, Monroe, ME 04951. Phone: 207-525-3323. Alternate Phone: 207-323-8628. Email: northbranchfarm.monroe@gmail.com. Open: July through September, Saturdays from 8am to 11am and Tuesdays from 4pm to 7pm. Directions: Payment: Cash, Check. Click here for our Facebook page. (ADDED: August 05, 2016)
Big Birch Farm - Uses natural growing practices, Fresh eggs, picnic area, petting zoo, farm animals, events at your location (call for info)
220 Cain Hill Road, Palermo, ME 04354. Phone: (207) 629-8428. Alternate Phone: (207) 993-2060. Email: bigbirchfarmme@gmail.com. Directions: From I-95, Exit 13, Route 3, in Augusta, toward Belfast and Arcadia. Stay on Route 3 (Belfast Road) for approx 23 miles. Approximately 2 miles from Tobey's Shell station, Turn left onto Cain Hill Road. Approx one half mile up hill on the right is the blueberry field and farm stand, the rest on on the other side of the road. Click here for a map and directions. We use natural practices, but are not seeking organic certification. Payment: Cash, Check. We offer a very fresh Farm-to-Fork experience and will pick fresh greens, herbs and vegetables upon your request, if we are able to do so. We can be reached in advance of your visit by text (preferred method), email or calling. Frozen lamb, mutton, goat and chicken sometimes available. (UPDATED: July 17, 2018)