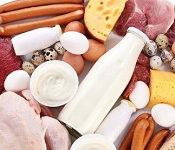 Looking for a farm or ranch for fresh meat, milk or eggs in Southwest Michigan? Scroll down this page and you will see the aall of thoses in Southwest Michigan, sorted by county. Some are organic ALWAYS call before you go to confirm the info, they don't always report changes to me!
And if you know of one I missed and want to add it or correct the information, please let me know! There are affiliate links on this page. Read our disclosure policy to learn more.
Updates for September 2023
September It's a pretty normal year for meat, milk and eggs, unless you are in the areas affected by the hurricanes.
Local meat, milk and eggs ranches and farms, by county
Click on Resources above, if you need a county map
Allegan County
Evergreen Lane Creamery, CERTIFIED ORGANIC, Artisan goat & cow's milk cheeses. Tasting Room open to customers
1824 66th Street, Fennville, MI 49408. Phone: (269) 543-9900. Email: evergreenlanefarm@gmail.com. Open: Tuesday to Saturday 10-5 and Sunday 12-5. We are all about creating delightful hand-crafted goat's & cow's milk cheeses. Our goat's milk cheeses have delighted palates for the past several years. They are available from mid-March through November. We also make a variety of cow's milk cheeses year-round with Jersey cow's milk from MOO-nique Dairy in Vandalia, Michigan. The milk we source is from animals fed with the highest quality feed and hay. All of this attention to the animal's health and well-being translates into wonderful cheeses. Directions: Click here for a map and directions. Payment: Cash, Visa/MasterCard . Delicious cheese!! They let you go wander into the barn to see the goats too. Click here for our Facebook page. (ADDED: June 22, 2019, Suggested by a visitor)
Barry County
Berrien County
Kickin K Ranch - No hormones used, 100% grass and/or grain fed, Eggs (free range), Milk, Unpasteurized Milk, Goat Milk,
2152 Allenville Road, Nashville, GA 31639. Phone: (404) 713-2439. Alternate Phone: (678)231-2957. Email: info@nigeriandwarf.net. Open: Call For Appointment as we are in and out Tom (404)713 pm to 2439 Michelle (678)231 pm to 2957. Directions: Click here for a map and directions. Payment: Cash, Check, Debit cards. Kickin K Ranch is a small goat dairy. We raise Oberhasli & Saanen Dairy goats due to their sweet disposition as well as the sweetness of their milk. Our animals are raised with natural and sustainable methods and we practice alternative methods of treatment and parasite control. Hormones are never used and antibiotics are only used in circumstances where the animals life is in danger and then we triple the hold off period for the milk. Our animals browse on lush brush and receive high quality hay, minimal amounts of grain are fed while on the milk stand. We are a GA licensed "pet food" milk distributor. We also sell all natural goats milk soap.
Branch County
Calhoun County
Frontiere Farm House - Eggs (free range), Eggs, Brown eggs, Specialty eggs (see below), Chicken (NOT free range), Chicken (free range), Turkey, Duck, Pork, Lamb, Mutton, Goat meat, No hormones used, 100% grass and/or grain fed, 100% mixture of corn, grain, soybeans and/or other natural supplemental feeds, Bacon (pork), Smoked meats, Within an easy drive to an Interstate road, children welcome, No pets please, Turkeys, Fresh eggs, gift shop
11211 22 Mile Road, Marshall, MI 49068. Phone: (269) 830-6508. Email: frontierefarmhouse@gmail.com. Open: Tuesday 12 pm to 6 pm. Directions: Click here for a map and directions. Payment: Cash, Venmo, PayPal, Debit cards, Visa/MasterCard, Discover, AmEx. Click here for our Facebook page. (ADDED: June 22, 2021)
Cass County
Eaton County
Kalamazoo County
St. Joseph County
Van Buren County