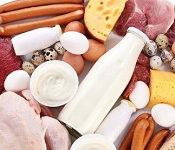 Looking for a farm or ranch for fresh meat, milk or eggs in Northeast North Dakota? Scroll down this page and you will see the aall of thoses in Northeast North Dakota, sorted by county. Some are organic ALWAYS call before you go to confirm the info, they don't always report changes to me!
And if you know of one I missed and want to add it or correct the information, please let me know! There are affiliate links on this page. Read our disclosure policy to learn more.
Updates for October 2023
Higher costs of production due to higher fuel and fertilizer costs is driving some meat producers out of business.
Local meat, milk and eggs ranches and farms, by county
Click on Resources above, if you need a county map
Benson County
Cavalier County
Langdon Lockers - Custom beef and pork;
324 Sixth St, Langdon, ND. Phone: (701) 256-2496. Open: see their website. They have contract growers contracted cattle by the quarter, half and whole; specialty pork; jerky pepper sticks; summer sausage, regular sausage, smoked and the bestselling smoked garlic known as Langdon Lockers also sells sausage; deer trimmings with summer sausage, jerky.
Eddy County
North American Bison - local bison products, including burgers, steaks, filet mignon, chops, ground bison and more.
New Rockford, ND. Open: direct-to-consumer online sales; see their

products page

to have it shipped directly to your home. Also available at shops and restaurants across the state, including:
Bismarck Bisman Community Food Co-op, Dan's Supermarket, Pirogue Grille, The Wood House Restaurant
Fargo: 701 Eateries, Jasper Hotel, Maxwells Restaurant, Prime Cut Meats
Grand Forks: L&M Meats Inc.
Harvey Warehouse Grocery
Jamestown Sabir's Buffalo Grill
Mandan: Dan's Supermarket Mandan
Medora: Little Missouri Saloon and Dining
St. Michael Spirit Lake Grocery
Williston Eleven Restaurant, Sagas Restaurant, Walt's Meat Market
Grand Forks County
Nelson County
Pembina County
Pierce County
Ramsey County
Rolette County
Towner County
Walsh County