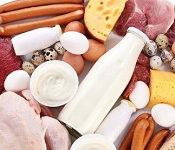 Looking for a farm or ranch for fresh meat, milk or eggs in Southeast North Dakota? Scroll down this page and you will see the aall of thoses in Southeast North Dakota, sorted by county. Some are organic ALWAYS call before you go to confirm the info, they don't always report changes to me!
And if you know of one I missed and want to add it or correct the information, please let me know! There are affiliate links on this page. Read our disclosure policy to learn more.
Updates for September 2023
September It's a pretty normal year for meat, milk and eggs, unless you are in the areas affected by the hurricanes.
Local meat, milk and eggs ranches and farms, by county
Click on Resources above, if you need a county map
Barnes County
Valley Meat Supply - Local beef, pork and lamb; turkey, chicken, dried beef, sandwich meat, cheeses, jerky; luncheon meat.
1269 W. Main, Valley City, ND. Phone: (701) 845-4705. Open: Call. Gift boxes during the holidays as well as gift cards. They have all cuts; make sausage, hams, summer sausage, ring sausage, bacons, jerky
Cass County
NDSU Animal Science Department - Beef, pork and lamb steaks and roasts as well as a variety of sausages, brats, ring sausage, jerky, snack sticks, ham, bacon and more.
Shepperd Arena , NDSU campus, Fargo, ND 58102. Phone: 701-231-7641. Email: ndsu.ansc@ndsu.edu. Open: Thursdays and Friday from 11 a.m. to 5 p.m. Also available locally at Blackbird Pizza, Herds and Horns, and Wurst Beer Hall.
Dickey County
Foster County
Barton Meats Inc. - Beef,
1020 11th St N, Carrington, ND 58421. Phone: (701) 652-3636. Open: call. Seasoned steaks and seasoned roasts, plus half, whole, quarters; steaks, roasts, burgers, sausage, jerky, summer sausage, pepper sticks. Slaughter beef and resale, custom orders; total state inspect plant; buy and resale
Custom Kut Meat Inc. - Beef, Pork, Turkey, Chicken, Deli
271 66 Ave NE, Carrington, ND

58421. Phone: 701-652-5970. Email: Customkutmeat@daktel.com. Open: see their website. A locally owned & operated business in Carrington, North Dakota, that features a wide variety of fresh and smoked meats and cheeses. Payment: Credit Cards, Debit Cards, Checks, ND SNAP. They offer all species of animals to be processed and several different cuts. Whole beefs, roasts, steaks and hams can be purchased daily. Steaks and burgers are sold fresh daily and a large variety of meats are carried in the freezers. Local favorites include deli meats, cheeses, snack sticks and head cheese. Custom Kut Meat facebook page.

Griggs County
La Moure County
Ransom County
Richland County
Sargent County
Steele County
Stutsman County
Traill County