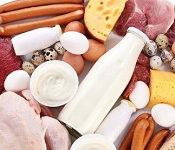 Looking for a farm or ranch for fresh meat, milk or eggs in Central Nebraska? Scroll down this page and you will see the aall of thoses in Central Nebraska, sorted by county. Some are organic ALWAYS call before you go to confirm the info, they don't always report changes to me!
And if you know of one I missed and want to add it or correct the information, please let me know! There are affiliate links on this page. Read our disclosure policy to learn more.
Updates for September 2023
September It's a pretty normal year for meat, milk and eggs, unless you are in the areas affected by the hurricanes.
Local meat, milk and eggs ranches and farms, by county
Click on Resources above, if you need a county map
Adams County
Antelope County
Blaine County
Boone County
Boyd County
Brown County
Buffalo County
Chase County
Clay County
Custer County
Dawson County
Dundy County
Franklin County
Frontier County
Furnas County
Garfield County
Morgan Ranch - Wagu Beef
83583 Gracie Creek Ave, Burwell, NE 68823. Phone: (308) 346-4394. Email: info@morganranchinc.com. Open: Shop online or call before you visit. Directions: Off Hwy 96, 18 Miles Northwest of Burwell, NE or 18 miles Northeast of Taylor, NE
Beef: Ribeyes, Striploins, Combos, Filet Mignons, Sirloins, Short Rib Medallions, Ground Beef, Roasts. Located in Burwell, Nebraska, the Morgan Ranch sits in the Sandhills. Nebraska's Sandhills are known for abundant grasses, perfect climate, and spring-fed streams. The region is among the best cattle-producing areas in the world.

Gosper County
Greeley County
Hall County
Hamilton County
Harlan County
Hayes County
Hitchcock County
Holt County
Howard County
Kearney County
Keya Paha County
Knox County
Lincoln County
Logan County
Loup County
Merrick County
Nance County
North Star Neighbors - beef, chicken, eggs, lamb, pork, turkey
RR 1, Box 40, Fullerton, NE, 68638. Phone: (308) 536-2475. Email: northstar@hamilton.net. Directions: From Fullerton, 9 miles west on Hwy 22, 1/2 mile north on Northstar Road; Grand Island Farmers' Market, Lincoln Haymarket Farmers' Market, Omaha Farmers' Market. Also has a Farmers' Market. We have been providing naturally raised meats for four years. Our animals are raised naturally without the use of antibiotics and artificial growth stimulants. We ship anywhere in the continental US and Hawaii. Our beef are NHTC certified. .
Nuckolls County
Perkins County
Phelps County
Red Willow County
Rock County
Sherman County
Valley County
Webster County
Wheeler County