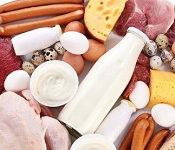 Looking for a farm or ranch for fresh meat, milk or eggs in Central New Jersey? Scroll down this page and you will see the aall of thoses in Central New Jersey, sorted by county. Some are organic ALWAYS call before you go to confirm the info, they don't always report changes to me!
And if you know of one I missed and want to add it or correct the information, please let me know! There are affiliate links on this page. Read our disclosure policy to learn more.
Updates for September 2023
September It's a pretty normal year for meat, milk and eggs, unless you are in the areas affected by the hurricanes.
Local meat, milk and eggs ranches and farms, by county
Click on Resources above, if you need a county map
Mercer County
Cherry Grove Farm - Grass-fed lamb and beef, Whey-fed pork, Pastured chickens and eggs, Farmstead Cheeses and Pastured Meats/Eggs
3200 Lawrenceville Road, Lawrenceville NJ 08648. Phone: (609) 219-0053. Email: E-mail: cherrygrovefarmstore@gmail.com. Open: see their website. We make award-winning farmstead cheeses from our grass-fed cows' milk. As part of our sustainable ecosystem, we also raise a small number of pigs, lambs, chickens and beef cattle, producing grass- and whey-fed meats, raised without hormones, antibiotics or steroids. Cheeses: Buttercup Brie, Toma, Herdsman, Lawrenceville Jack, Full Nettle Jack, Lawrenceville Jack Reserve, Havilah.
Lee Turkey Farm - Turkeys
201 Hickory Corner Road, East Windsor, NJ. Phone: (609) 448-0629. Open: May - December, 9:00am till 6:00pm Monday through Saturday and on Sundays from 2:00pm till 6:00pm; Please keep in mind that if you are coming to pick you must be at the farm no later than 5:15pm to enter the fields and orchards. Directions: On Hickory Corner Road, 1 mile W of Route 130. The turkeys are all raised on our farm and sold as oven ready whole turkey and turkey parts such as boneless breast meat, thighs, wings and legs. Turkey parts are perfect for the backyard grill! The turkeys are fed a natural feed mix which is made by us and are raised without medications or growth hormones. Advance orders for oven ready whole turkeys are only necessary during Thanksgiving and Christmas. For the rest of the year just come on over; we've got turkeys in most every size! Fresh turkeys are only available October through January 2nd. We guarantee our frozen turkeys to be just as good as our fresh, so any time is turkey time!We also have a roadside market / farm stand with Apples, cucumbers, cabbage, fruits, vegetables. Our apple varieties are Cortland, Empire, Fuji, Gala, Golden Delicious, Jonagold, Red Delicious,, Red Delicious,, Red Delicious, Stayma/Winesap. We also have Hay rides; walking tours; corn maze; oven-ready turkeys. We also have Hay rides; walking tours; corn maze; oven-ready turkeys. Strawberries are usually available from mid May through mid June. We also have Pick Your Own: Apples, cherries, nectarines, peaches, beans, peas, squash, sweet corn, tomatoes, strawberries, raspberries, blackberries, eggplant, peppers, broccoli, pumpkins, other vegetables, flowers, hayrides, corn maze (UPDATED: June 16, 2016, JBS)
A visitor writes on September 06, 2014: "The blackberries that I got form the farm, worth $5, were a waste of money. It had plenty of worms...oh god! thrown them all... please never bring berries from this farm. Also, last time I bought Nectarines from market, they were super sour. If you need Nectarines, pick by yourself (they are good), but the one in the market are not ripened.Peaches are good; apples are not so sweet..(while some are super sour, taste and then pick). EGG PLANTS ARE TOO GOOD. Please, never pick blackberries, they are just so suspicious to eat...eaweeeee. I have been to this farm twice,in future will go only for necters and peaches. good luck for your next pick up."
Comments from a visitor on September 19, 2009: "My fiancée and I love to pick your own fruit. I was searching your website for a place that was close to home and we found Lee Turkey Farm. It's a GREAT place. It has a mom and pop feel. The staff is very friendly and are always willing to help you. The fruit was delicious and very plentiful. We went peach picking in September and there were so very many trees that still had so much fruit on them. I enjoyed the low prices on the pick your own. This is a GREAT find. People should check this place out!!"
Oasis Garden Center - Certified USDA organic, Eggs (

organic

, free range, vegetarian fed), sausage, Farm market with fruits and vegetables, children welcome, Pets welcome, Fresh eggs, events at your location (call for info)
87 Federal City Rd, Lawrenceville, NJ 08648. Phone: 609-818-1140. Fax: 609-482-3617. Email: oasisgardencenter1@gmail.com. Open: Monday to Saturday, from 8 am to 6 pm; Sunday, from 9 am to 5 pm. Directions: Click here for a map and directions. Payment: Cash, Debit cards, Visa/MasterCard, Discover. Click here for our Facebook page.
Middlesex County
Dey Farm LLC

-

Certified Organic

, Chicken (free range), Duck, Beef, Veal, Pork, Lamb, Goat, Certified USDA organic, No hormones used, No antibiotics used, 100% Corn fed, Smoked meats, Eggs (free range), Restrooms, Within an easy drive to an Interstate road, children welcome, Pets welcome, handicap accessible, restrooms, picnic area, farm animals
215 Dey Road, Cranbury, NJ 08512. Phone: 609-395-0232. Open: Monday and Tuesday, CLOSED Wednesday to Friday, 6 am to 4 pm Saturday, 6am to 2 pm Sunday, 6 am to 12 noon; we are open all year, closed only on Christmas, Easter Sunday and Thanksgiving; all other holidays we remain open. Directions: From NJ Tpk: Exit 8a. Once you pay the toll take exit to the right (Rt.32). When arriving at first light make a left onto Cranbury-South River Road Pass 3 traffic lights, make a right onto DEY ROAD. The farm will be about 2 miles on the right. From Route 1 South: Take Route 1 north towards New Brunswick. Take ramp for SCUDDERS MILL ROAD. DEY ROAD will be 3rd traffic light. Make left. Ranch will be approx. 4 miles on left. Click here for a map and directions. Payment: Cash, only. We sell yellow corn in the Summer. It is pick your own. Fresh meat, we also do butchering. If you have your own raised animals you can also bring them in for butchering. All our animals are kept in clean barns. We make our own feed for the animals on site. Grain/ corn fed beef, goats, lambs, chickens, ducks and rabbits. We try our best to keep customers happy and coming back for fresh meat.
Von Thun's Country Farm Market - grass fed beef, pumpkins; corn maze, hayrides, raspberries; blackberries; string beans
519 Ridge Rd. (Route 522), Monmouth Junction, NJ. Phone: (732) 329-8656. Email: vonthunfarms@aol.com. Open: daily from 10 am to 5 pm. Directions: Located on Route 522, minutes from NJTPK, GSP, Route 1, Route 130, Route 18, Route 33, Route 27. In addition to pick your own fields for strawberries, raspberries, peas, and pumpkins, there is also a roadside market with Sweet corn; tomatoes; peppers; strawberries; raspberries; string beans; melons; pumpkins; other assorted home-grown fruits & vegetables. There are also farm tours in spring, summer, and fall, and hold a number of family fun days on the farm throughout the year. Please check out our links to learn more about our special events, festival days, hayrides, animals; fall festival with pyo pumpkins & free hay rides; WIC and Senior FMNP checks accepted. we're more excited about the wonderful flavor of the Lowline Angus meat. Our cattle are raised on our quality grass pasture and homegrown hay year round, and are never confined in a feed lot. Since our beef is grassfed, it has a very healthy Omega-3 to Omega-6 ratio. We don't give our steers growth hormones, or antibiotics, and our cattle are raised using sustainable livestock and environmental practices. VonThun Farms is committed to raising cattle in a healthy, stress free environment and providing superior meat products that are healthier for you and your family to eat. If you've never tasted local grass fed beef, you are missing out! It's more flavorful, fresh tasting, and a lot lower in fat than store bought grain finished beef. U-Pick apples and U-Pick pumpkins, hayrides corn maze, & our other activities and fun galore! We host educational fall school field trips (including our new Spookley the Square Pumpkin & his anti-bullying message corn maze), as well as group events and fall birthday parties by reservation. Weekends on the farm are a- maze -ing, guaranteed fun with kid-friendly & family-fun activities offered each weekend! Our one price general admission enables you to stay longer, play harder, spend less, & make more memories together as a family!! Join us as we celebrate our Fall harvest season with family fun for all ages! Get lost in a corn maze or visit to look for the perfect pumpkin. Take a hayride, pick apples or browse the Farm Market for fresh produce, baked goods and more. Our Farm Market, Apple Orchard, Pumpkin Patch and Corn Maze are open weekdays (see hours below). Enjoy the farm's 30+ fall weekend activities and attractions! (UPDATED: June 29, 2018, JBS)
Monmouth County
Slope Brook Farm, Inc. - Laying Hens, Feed, Rabbits, Manure Removal, Honey from hives on the farm, already-picked produce, farm market, restrooms, picnic area, birthday parties, school tours
213 Heyers Mill Road, Colts Neck, NJ. Phone: 732-772-1772. Email: di772@optonline.net. Directions: Farm is directly in front of Hominy Hill Golf Course on Route 537 . Click here for a map and directions. Payment: Cash, only.