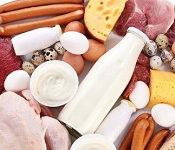 Looking for a farm or ranch for fresh meat, milk or eggs in Capital Region (aka Hudson Valley) of New York State? Scroll down this page and you will see the aall of thoses in Capital Region (aka Hudson Valley) of New York State, sorted by county. Some are organic ALWAYS call before you go to confirm the info, they don't always report changes to me!
And if you know of one I missed and want to add it or correct the information, please let me know! There are affiliate links on this page. Read our disclosure policy to learn more.
Updates for September 2023
September It's a pretty normal year for meat, milk and eggs, unless you are in the areas affected by the hurricanes.
Local meat, milk and eggs ranches and farms, by county
Click on Resources above, if you need a county map
Albany County
Rensselaer County
Saratoga County
Schenectady County
Warren County
Washington County
The Common Sense Farm

-

Certified Organic

,
41 North Union Street, Cambridge, NY 12816. Phone: 518-723-4955. Email: othniel@commonsensefarm.com. Directions: Click here for a map and directions. We are certified organic for all crops! Payment: Cash, Check.
Liebigs' Strawberry Ridge Farm - Beef, blueberries, raspberries (red), raspberries (Autumn, red), raspberries (black), raspberries (Autumn, black), strawberries, U-pick and already picked, picnic area, farm animals, school tours
66 Middleton Road, North Granville, NY 12832. Phone: 518-642-1385. Open: Pick you own strawberries are available from early to mid June through early June; The farm is open 7 am to 7 pm seven days a week; U pick black raspberries are available in late June/early July and red raspberries are available in mid - August through the first hard frost occurence of the fall. Directions: Liebigs' Strawberry Ridge Farm is located on Middleton Road in the hamlet of Truthville, which is part of the township of Granville, NY. The most immediate way to find the farm is take County Route 12 off of State Route 22. Once on County Route 12, look for Middleton Road (appx. one half mile from Route 22) and travel 3/10's of a mile. The farm is on the right hand side. Click here for a map and directions. Payment: Cash, Check. Located in Granville, New York, Strawberry Ridge is a 118-acre, family-owned farm nestled along the banks of the picturesque Mettowee River in Washington County, near the New York-Vermont border. We grow more than a dozen varieties of crops and specialize in U-pick strawberries, raspberries, blueberries, pumpkins and other fall produce. We also raise a herd of Scottish Highland cattle, which are sustained exclusively on a grass-fed diet.we raise our cattle on an exclusively grass-fed diet. They spend their entire lives on pasture. No factory line feed lots. No artificial hormones or antibiotics. At Strawberry Ridge, we believe in the benefits of grass-fed beef. After all, "you are what you eat." Highlands are slow maturing, making meat tender, flavorful and succulent. As previously mentioned, the breed is characterized by it's long coat, which eliminates the need for the thick layer of back fat found in other breeds. This results in leaner cuts of beef. Analysis of highland beef has found to be lower in cholesterol and fat than other breeds. ​These characteristics are enhanced by our own practices of rotating pasture and providing a grass-fed diet. When compared to grain-fed beef, grass-fed beef has been found to be lower in fat, contain fewer calories, have a healthier ​ratio of omega-3 to omega-6 fats, and possesses more vitamin E and beta-carotene. A study by the Scottish Agriculture College also determined highland beef is higher in protein and iron than beef from other breeds. In addition, when you purchase beef from us, you can rest assured knowing our animals were raised humanely and ethically. Our cattle spend their entire lives on pasture, which helps maintain a balanced body chemistry (studies have found the concentrations of e-coli pathogens in the internal systems of grass-fed cattle is much lower than animals on a grain-intensive diet). ​Our animals are also slaughtered and processed in accordance with all USDA guidelines.