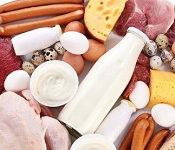 Selling Eggs From Your Backyard Chickens: Your State's Rules
When it comes to what it takes to be able sell eggs from chickens on your own backyard henhouse or property, every state is different. Most allow it, some don't; there may be limitations of the number of eggs you can sell and where, and other requirements. Click on your state for local requirements:
[ California ] [ Colorado ] [ Georgia ] [ South Carolina ]
All other states below.
Regulations
The USDA Egg Grading Manual is used in almost every state.
Alabama
Code of Alabama - Title 2: Agriculture - Section 2-12-1 - DefinitionsAlabama egg producers Alabama Department of Agriculture Animal Industry Administrative Code
Alaska
Alaska Shell Egg Regulation
Safe Egg Handling for Small Egg Laying Flocks and Operations
Arizona
Title 3 - Agriculture
Article 9 - Egg and Egg Products Control
Arkansas
Arkansas Eggs Marketing Act
Colorado
Colorado Egg Rules
Connecticut
Voluntary Small Shell Egg Processing Plant Inspection Program Compliance Guide
Delaware
Title 3 - Chapter 35 - Eggs
Florida
2013 Florida Statutes
Rule Chapter 5K-6
Hawaii
Chapter 147 - Grades and Standards
Idaho
Idaho Statutes - Chapter 15: Eggs and Egg Products
Illinois
Eggs and Egg Product Inspections
Indiana
Department of Egg Inspection
Iowa
Chapter 36 - Egg Handlers
Kansas
Kansas Egg Law
Kentucky
Egg Marketing and Licensing
Louisiana
Part V - Advertising, Marketing, and Processing
Maine
Revised Statutes
Maryland
Federal and State Shell Egg, Meat, and Poultry Regulations
Maryland Department of Agriculture
Massachusetts
License to Break and Can Eggs (Click on next section to move through the law.)
Michigan
Eggs - Act 244 of 1963
Becoming a Michigan Licensed Shell Egg Processor
Minnesota
Chapter 29 - Poultry, Eggs
Chapter 1520 - Poultry and Eggs
Mississippi
Laws - Consumer Protection
Mississippi Code of 1972 (Click on Mississippi Code, Title 69, Chapter 7, Articles 5-7.)
Missouri
Egg Licensing and Inspection
Montana
Rule Chapter: 32.12
Nebraska
Nebraska Poultry and Egg Marketing Regulations
Nebraska Graded Egg Act
Nevada
Chapter 583 - Meat, Fish, Produce, Poultry, and Eggs
New Hampshire
New Hampshire selling eggs
New Jersey
Title 4 - Agriculture and Domestic Animals
Administrative Code (Click on NJ Administrative Code, Title 2, Chapter 71, Subchapter 1.)
New Mexico
Grades, Standards, and Reports for Shell Eggs
Egg Grading Act
Egg Inspection Fees
New York
New York Department of Agriculture
North Carolina
North Carolina Egg Law
North Dakota
North Dakota Egg Rules Chapter 19-07 Eggs
ND Egg Regulations
Ohio
Ohio Chapter 925: Marketing
Oklahoma
Oklahoma Poultry and Egg Section
Oklahoma Subchapter 1. Eggs
Oregon
Oregon Division 22: Eggs
Pennsylvania
Pennsylvania Department of Agriculture
Selling Eggs in Pennsylvania
Rhode Island
Chapter 21-17 Eggs
Rules and Regulations Relating to Shell Eggs
South Dakota
SD Article 12:26 - Eggs and Egg Products
South Dakota Chapter 39-11 - Eggs and Egg Products
Tennessee
Egg Rules and Regulations
TN License Required to Deal in Eggs
Texas
Texas Chapter 15 - Egg Law
Texas Chapter 132 - Eggs
Utah
Utah Egg Marketing Order
Grading and Inspection Program
Vermont
Vermont Chapter 27 - Eggs
Code of Vermont Rules (The Code reflects changes current through 3/9/11, Agency 20, Sub-Agency 11, Chapter 5.)
Virginia
Virginia Chapter 53 - Eggs and Hatchery Products
Virginia Rules and Regulations Defining Standards for Grades/Sizes of Shell Eggs
Washington
Washington State Egg Guidelines
West Virginia
West Virginia Egg Marketing Law of 1998
WV Series 7A - Marketing of Eggs Rule (Note, if link does not work automatically, try copying and pasting into browser.)
Wisconsin
Wisconsin Egg Grading, Handling and Labeling
Wyoming
Wyoming Food Safety Rule (All laws pertaining to eggs are contained within the food rule for the State of Wyoming.)
[ Alabama ] [ Alaska ] [ Arkansas ] [ Arizona ] [ California ] [ Colorado ] [ Connecticut ] [ Delaware ] [ Florida ] [ Georgia ] [ Hawaii ] [ Idaho ] [ Illinois ] [ Indiana ] [ Iowa ] [ Kansas ] [ Kentucky ] [ Louisiana ] [ Maine ] [ Maryland ] [ Massachusetts ] [ Michigan ] [ Minnesota ] [ Mississippi ] [ Missouri ] [Montana] [Nebraska] [ Nevada ] [ New Hampshire ] [ New Jersey ] [ New Mexico ] [ New York ] [ North Carolina ] [ North Dakota ] [ Ohio ] [ Oklahoma ] [ Oregon ] [ Pennsylvania ] [ Rhode Island ] [ South Carolina ] [ South Dakota ] [ Tennessee ] [ Texas ] [ Utah ] [ Vermont ] [ Virginia ] [ Washington state ] [ West Virginia ] [ Wisconsin ] [ Wyoming ]