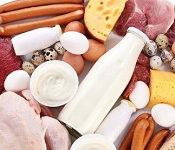 Looking for a farm or ranch for fresh meat, milk or eggs in Knoxville Area of Tennessee? Scroll down this page and you will see the aall of thoses in Knoxville Area of Tennessee, sorted by county. Some are organic ALWAYS call before you go to confirm the info, they don't always report changes to me!
And if you know of one I missed and want to add it or correct the information, please let me know! There are affiliate links on this page. Read our disclosure policy to learn more.
Updates for May 2021
May It's a pretty normal year for meat, milk and eggs, unless you are in the areas affected by the hurricanes.
Local meat, milk and eggs ranches and farms, by county
Click on Resources above, if you need a county map
Anderson County
Blount County
Friendly Farms - Eggs (free range), Brown eggs, Restrooms, Hiking trails, Within an easy drive to an Interstate road, Farm/ranch tours for visitors, School tours, No pets please, gift shop, concessions / refreshment stand, porta-potties are available, picnic area, picnic area (bring your own food), face painting, pony rides, petting zoo, farm animals, birthday parties, weddings and wedding parties, school tours, group reservations, events at your location (call for info)
1302 Blockhouse Rd, Maryville, TN 37803. Phone: 865-982-7255. Email: friendly_farm@yahoo.com. Open: very with the season. Directions: Gps will get you close, most bring you right to us, some take you to our neighbor, some take you to the back of the property and tell you to get out and walk. if your gps does something silly, just calll. Click here for a map and directions. October. Payment: Cash, Debit cards, Visa/MasterCard, Discover. Click here for our Facebook page.
Campbell County
Mor-Lyn-Del Farm

- Eggs (organic, free range, vegetarian fed), Eggs, Brown eggs, children welcome, Fresh eggs, pony rides
170 Kings Grant Way, Rustburg, VA 24588. Phone: 434-426-4205. Alternate Phone: 434-332-1348. Email: christi.thacker7@gmail.com. Open: Monday to Saturday, from 12 noon until 7pm, year round. Directions: Click here for a map and directions. Payment: Cash, Debit cards, Visa/MasterCard. We have farm fresh brown and white eggs. We do not use antibiotics or hormones.
Claiborne County
Cocke County
Cumberland County
Grainger County
Hamblen County
Jefferson County
Country Lane Farm

- Beef, No hormones used, No antibiotics used, 100% Grass fed (includes finishing), Eggs (free range), Eggs, Brown eggs, Specialty eggs (see below),
351 Kearney Road, New Market, TN 37820. Phone: 865-804-2503. Email: cjholbertfarm@gmail.com. Open: Monday to Saturday, from 10 am to 4 pm. Directions: Click here for a map and directions. Payment: Cash, Check. Country Lane Farm uses Natural Growing Practices for all vegetables grown. Our completely grass-finished beef is sold only on the hoof, we will deliver to the processor of your choice. Visitors accepted on by appointment. We have many different greens available this winter that are grown in a 30' by 72' high tunnel. We are certified by "Certified Natural Grown".
Lick Skillet Farm - Eggs (free range), Beef, Pork, No hormones used, No antibiotics used, 100% Grass fed (includes finishing), sausage, Wedding facilities, Within an easy drive to an Interstate road, Farm/ranch tours for visitors, School tours, children welcome, meeting room available, Fresh eggs, restrooms, petting zoo, farm animals, birthday parties, weddings and wedding parties
800 Lick Skillet Lane, New Market, TN 37820. Email: shannon@lickskillet.farm. Open: Click here for current open hours, days and dates. Directions: Payment: Debit cards, Visa/MasterCard, Discover, AmEx. Click here for our Facebook page. (ADDED: August 09, 2020)
Knox County
Loudon County
Morgan County
Roane County
Scott County
Sevier County
Union County
Seven Springs Farm to Table - beef, pork
1474 Highway 61 East, Maynardville, TN 37807. Phone: (865) 803-8333. Alternate phone: 865-803-0281. Email: JamesRiddle@SevenSpringsFarmTN.com. Open: See our website. We are a diversified farm, marketing fruit, vegetables, beef and pork. Our wide selection of garden grown fruits and vegetables are hand-picked daily. Come enjoy the scenery and serenity while picking your own blueberries and muscadines. Our fresh vegetables and berries are sold in either small amounts or large quantities for canning and freezing. Seven Springs Farm to Table's Angus beef and pork are sold as retail cuts. Beef is also available as whole or half. We do not use antibiotics, artificial hormones, steroids or animal byproducts making our beef and pork an all-natural product, which is minimally processed. Our Angus cattle are rotationally grazed on lush grass and clover pasture and given fresh spring water. They are fed free choice custom blended grain while on pasture. Our beef is all natural, meaning we do not use any antibiotics, growth-enhancing hormones or steroids. At a certain age, when the calf is weened, we begin to feed them limited amounts of grain once a day as well as using rotational pastures to ensure a continual hearty diet of lush grasses. We call this Grain-on-Grass finishing. We do this so we can maximize qualities such as taste, tenderness, and marbling which will ensure a high quality of beef. TWe sell from the farm and at area farmers markets. Call or e-mail us for hours, availability and directions. (ADDED: May 09, 2015, JBS)