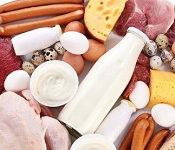 Looking for a farm or ranch for fresh meat, milk or eggs in Northeastern Texas? Scroll down this page and you will see the aall of thoses in Northeastern Texas, sorted by county. Some are organic ALWAYS call before you go to confirm the info, they don't always report changes to me!
And if you know of one I missed and want to add it or correct the information, please let me know! There are affiliate links on this page. Read our disclosure policy to learn more.
Updates for May 2021
May It's a pretty normal year for meat, milk and eggs, unless you are in the areas affected by the hurricanes.
Local meat, milk and eggs ranches and farms, by county
Click on Resources above, if you need a county map
Anderson County
Angelina County
Bowie County
Anderson Family Farms -

Uses natural growing practices

, Fresh eggs, chicken
332 County Road 1107, Maud, TX 75567. Phone: (903) 276-7474. Email: frontierman1969@yahoo.com.

Open: We have fresh eggs year round and can put them in an ice chest beside the road if you need to come earlier or later; call for meat.

Directions: From interstate I-30, take highway 8 south 4 miles. Take FM 2149 East go 6 miles. Look for CR. Click here for a map and directions. (903) 276 to 7474. We use natural practices, but are not seeking organic certification. Payment: Cash, only. We can grow just about anything you want. We also raise farm fresh eggs, chicks, and chickens. Need pasture raised meat? Call us to arrange what meat you want us to raise and how you want it raised. 903-276-7474. (ADDED: April 26, 2019)
Camp County
Cass County
Cherokee County
Delta County
Franklin County
Freestone County
Gregg County
Harrison County
Henderson County
Cackleberry Farm Produce

- Eggs (free range), Brown eggs, Farm market with fruits and vegetables, children welcome, Fresh eggs
6901 highway 175e, Larue, TX 75770. Phone: 903-677-1314. Email: moomama58@yahoo.com. Open: Monday to Sunday, from 8am to 6pm March 1 to November 31. Directions: Take highway 175 East off the Loop. As the road merges to 2 lane we are located on the left. Payment: Cash, Check. We have available shelled peas and beans all year along. All you have to do call or come by. If anyone has any questions or needs more information please do not hesitate to call. Cackleberry Farm works hard to provide fresh, wholesome food for you and your family. As stewards of our farm, we are committed to the following old fashion practices: We do not use any chemicals or petroleum based fertilizers on our gardens or pasture. We fertilize the old fashion way, with compost and manure. Our animals are treated lovingly and humanely. Our purpose is to grow and market the finest quality products and to serve our customers with excellence and integrity.
Hopkins County
Houston County
Madison County
Marion County
Morris County
The Greer Farm - Grass-fed beef, all natural chicken, lamb and pork, blackberries, blueberries, Honey from hives on the farm, Fresh eggs, porta-potties are available, picnic area, picnic area (bring your own food)
1444 County Road 1125, Daingerfield, TX 75638. Phone: 903-645-3232. Alternate Phone: 903-452-9738. Fax: 903-645-7752. Email: info@greerfarm.com. Open: During berry season (June - mid - August). seven days a week from 7:00 am to 5:00 pm Directions: We are on google maps: search Greer Farm Daingerfield or Click here.. Blackberries: Late May to mid-July Blueberries: Early June to mid-August. Payment: Cash, Check, Debit cards, Visa/MasterCard, Discover. Click here for our Facebook page. We offer Farm to fork Cooking Classes using farm products and private dining in 1850's farm house. Berries are best picked before the day gets too hot; Before noon or very late in the afternoon. We also have grass-fed beef from all natural herd of French full-blood Maine-Anjou cattle available by the split quarter. See our web site for details. We have farm fresh eggs from free range chickens most of the year. During the summer, we have often have farm fresh vegetables. We practice sustainable agriculture techniques and hope to be organically certified soon. If you want a farm experience, we have a loft apartment with queen bed up and futon full bed down, and kitchenette. In 2014, we planted an additional 1,300 blackberry plants. An additional 1,500 were planted in 2015. Cooking Classes, Private dining, Farm Stay, Rental Lakeside Log Cabins, Grass Fed Beef and lamb, pasture raised chicken and pork, pick-your-own Blueberries & Blackberries in June. The Greer Farm utilizes sustainable agriculture techniques We raise Maine-Anjou fullblood cattle We offer free range eggs, grass fed beef and lamb, pasture raised chicken and pork sold by the portion at the farm We also sell beef by the split quarter in bulk cut and packaged to your specification and pork by the half. We also four lakeside log cabins and a loft for rental, offer private dining for groups of 8-10 or more by reservation, make homemade jam, sauces and syrup, and Chef Eva teaches her famous Farm to Fork cooking classes on a scheduled or private basis. We have our all natural beef (nothing artificial added ever) by the frozen portions at the farm, Historic Longview Farmer's Market and occasional delivery to Dallas every 3 weeks. We also have our all natural chicken, lamb and pork too. We also sell our beef by the split quarter, half a steer or whole steer. Price has been the same for years unchanged...$5.50/pound hanging weight plus processing. a whole steer hangs at 450-550 pounds more or less. Contact us for more information. Every steer is different due to live weight and how you have it cut, but for large steer you get approximately 24 roasts, 28 t-bone steaks, 10 sirloin steaks, 28 rib eye steaks, 8 filet tenderloin (small), 12 round steak, short ribs, flank and skirt, stew, kabob and fajita meat, brisket and maybe 150 pounds of ground beef. (UPDATED: May 24, 2016)
Nacogdoches County
Panola County
Rains County
Red River County
Rusk County
Sabine County
San Augustine County
Shelby County
Smith County
Titus County
Upshur County
Van Zandt County
Wood County