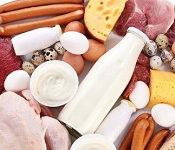 The Top 100 Most Popular Cheeses in the World
There are many ways to rank cheeses, and every country and region inside a country has their own favorites. But obviously, the total volume of global sales of a type of cheese , whether measured bu dollars or other equivalent currency sold, or pounds (or kilograms) is the way to go.
The International Dairy Foods Association tells us that their most recent reports show that. Americans consume more Italian style cheeses than other types, followed by American style cheeses with a per capita consumption of natural cheese of 33.7 pounds per person. Other most popular types of cheese in the US are cheddar cheese, American style cheese, Swiss cheeseand then Hispanic cheese. So America's top 3 cheese are Mozzarella, followed by Cheddar and Parmesan.
The top 3 cheese consuming nations and their per person annual consumtion are
France - 57.9 pounds per year
Germany - 53.2 pounds per year
Luxembourg - 53.2 pounds per year
And now, the Global list of most popular cheese types:
The top 10
English Cheddar
Parmigiano Reggiano (Parmesan)
Roquefort
Brie
Gruyere
Feta
Mozzarella
Manchego
Gorgonzola
Epoisses
After the top ten, here are the next 90 to round out the top 100 global cheeses.
Swiss cheese
Gouda cheese
Monterey Jack
Muenster cheese
Provolone
Blue cheese
Camembert
Irish Cheddar
Havarti
Buffalo mozzarella
Colby-Jack
Monterey Jack
Edam
Ricotta
Manchego
Pepper jack cheese
Roquefort
Goat cheese
Colby cheese
Stilton cheese
Emmentaler
Cream cheese
Comté cheese
American Farmhouse Cheddar
Cottage cheese
Grana Padano
Halloumi
Rembrandt Gouda
Sharp Provolone
Danish Blue
Saint Albray
Appenzeller cheese
Mascarpone
Tomme de Savoie
String cheese
Saint-Marcellin
American cheese
Pont-l'Évêque cheese
Mahón cheese
Cantal cheese
Emmental Français
Selles-sur-Cher cheese
Neufchâtel cheese
Morbier cheese
Fourme de Montbrison
Cheese curdcaprice des dieux
Reblochon
Coulommiers cheese
Taleggio cheese
Vacherin
Beaufort cheese
Beaufort Alpage
Abondance cheese
Saint-Paulin cheese
Chaource cheese
Livarot cheese
Rocamadour cheese
Cambozola
Oregon Blue Vein
Leonora Goat Cheese
Pimento cheese
Banon cheese
Cabrales cheese
Tête de Moine
Boerenkaas
Emmental de Savoie
Brocciu
Laguiole cheese
Limburger cheese
Queso De Bola
Maroilles cheese
Stichelton
Ossau-lraty Cheese
Saint-Nectaire
Pont l'Evêque
Crottin de Chavignol
Mimolette
Pélardon
Fourme d'Ambert
Fromage Frais
Bleu du Vercors-Sassenage
Cabecou
Saint-Félicien cheese
Bleu d'Auvergne
Bleu de Bresse
Farmer cheese
Hooligan
Bleu des Causses
References