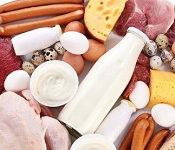 Looking for a farm or ranch for fresh meat, milk or eggs in Southern East Anglia (Essex, Bedfordshire, Hertfordshire), England? Scroll down this page and you will see the aall of thoses in Southern East Anglia (Essex, Bedfordshire, Hertfordshire), England, sorted by county. Some are organic ALWAYS call before you go to confirm the info, they don't always report changes to me!
And if you know of one I missed and want to add it or correct the information, please let me know! There are affiliate links on this page. Read our disclosure policy to learn more.
Updates for October 2023
October It's a pretty normal year for meat, milk and eggs, unless you are in the areas affected by the hurricanes.
Local Meat, Milk and Eggs Listings, by county
Click on Resources above, if you need a county map
Bedfordshire
Essex
Coxtie Green Farm - 100% grass fed, free range Beef and Lamb, Pork, free range Turkeys
28 Coxtie Green Road, Brentwood, Essex CM14 5PT. Phone: 01277 373656. Open: Tues-Sat: 9-5, Sun: 11-4, Mon: Closed. Coxtie Green Farm is a family run, Pasture for Life certified smallholding based in Brentwood, Essex. Alongside Thomas Joseph Butchery, the farm produces 100% grass fed, free range Beef and Lamb, Pork reared to organic standards and free range Turkeys at Christmas. The butcher's shop on site sources meat from other farms aligned with the same ethos including grass fed, free range beef and lamb, free range pork and Herb Fed Poultry from Yorkshire.
Deersbrook Farm - 100% certified grass feed beef, Herdwick lamb, free range chicken, turkey, goose, duck, wild venison, rabbit and game (in season)
Littles Lane, Shalford Green, Braintree, Essex CM7 5AZ. Phone: (01371) 851271. Email: deersbrookfarm@btinternet.com. Open: 24/7 online. Deersbrook Farm and award winning butchery and farm shop that you can now buy direct from us, the Farmers! Come and visit our butchery and farm shop here at Deersbrook Farm or choose from our selection of meat boxes​ or send us your shopping list for national delivery. We supply our butchery with beef and pork, then stock our friends amazing meats as well as local veg, spice mixes, sauces, wine and ales! Our home produced 100% certified grass feed beef is predominately from our Native Sussex cattle. They are reared on our mature grassland to provide our truly great tasting, nutritious beef
Humphreys Farm - Aberdeen Angus beef, Free-Range Turkeys
Humphreys Farm Lane, Great Waltham, Chelmsford, Essex CM3 1EF. Phone: 07703 330360. Email: hello@wildandrootedfarming.co.uk. Open: Saturday collection for pre-orders 10am to 12 pm; Local deliveries Fridays 8am to 11am; Courier deliveries Friday before 12 pm; see their page for updates.


Hertfordshire
Native Beef and Lamb - pasture-fed, grass fed, beef, lamb,
Green End Farm, 93A Church Lane, Sarratt, Herts, WD3 6HH. Phone: 07771 740980. Email: chapman@native-beef.co.uk. Open: see their page. We farm on the Hertfordshire / Buckinghamshire borders, in the beautiful countryside a stone's throw from London. We work mostly with Red Ruby Devon cattle, one of Britain's oldest native breeds. They are famed for the succulence and flavour of their meat, which is tender and well marbled. They are also hardy, calm and well suited to an outdoor life. They thrive on a pure forage diet throughout their life and, unlike many modern beef breeds, they do not need to be intensively finished on cereal, soya and maize to achieve good carcass grades and weights. The Chapman Herd grazes on herbal leys – a mixture of high quality grasses, clovers and herbs. In the winter their diet is supplemented by home produced haylage.