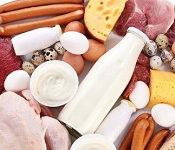 Looking for a farm or ranch for fresh meat, milk or eggs in Northeast England (Durham and Northumberland)? Scroll down this page and you will see the aall of thoses in Northeast England (Durham and Northumberland), sorted by county. Some are organic ALWAYS call before you go to confirm the info, they don't always report changes to me!
And if you know of one I missed and want to add it or correct the information, please let me know! There are affiliate links on this page. Read our disclosure policy to learn more.
Updates for October 2023
October It's a pretty normal year for meat, milk and eggs, unless you are in the areas affected by the hurricanes.
Local Meat, Milk and Eggs Listings, by county
Click on Resources above, if you need a county map
Cumbria
Durham
Broom House Farm - grass-fed beef, lamb and pork
Broom House Farm, Witton Gilbert, Durham DH7 6TR. Phone: 0191 371 8839. Open: Tuesdays to Saturdays 9am-5pm. The Farm Shop is very well stocked and is open Tuesdays-Saturdays. We are closed on Sundays and Mondays. Broom House Farm Shop is at the centre of our organic farm in the Browney Valley overlooking Durham City, just 6 miles to the west of the cathedral. The farm has been registered as organic with Organic Farmers & Growers (FA002017) since 2005. We breed and rear our own 100% pure Aberdeen Angus beef, lamb, mutton and rare breed British Saddleback pork, hams, sausages and bacon and all beef and lamb is grass fed. This is the place to shop if you value the best flavoured beef, lamb and pork in Durham. Our beef is dry aged for 21+ days and prepared with great attention to detail by our craft butchers. Our beef and lamb are 100% organic and 100% grass fed, but we do not have an organic butchery license so it's not labeled organic in the Farm Shop.
Wrefords' Farm - pasture raised pork, organically reared, grass-fed, beef, lamb, mutton, hogget
Fleming Field Farm, Shotton Colliery, Durham DH6 2JD. Phone: +44 191 517 1634. Open: see this page. Offers healthy pork raised on rich herbal pastures with legumes and wildflowers. 100% Grass Fed Meat from Family Farms: Specializes in organically reared beef, lamb, mutton, and hogget that are 100% grass fed.
Northumberland
North Acomb Farm Shop - Aberdeen Angus beef, lamb and pork
Stocksfield, Northumberland NE43 7UF. Phone: 01661 843181. Email: e: shop@northacomb.co.uk. Open: Tuesday - Friday: 9:30am - 5:00pm, Saturday: 9:30am - 5:00pm, Sunday: closed all day, Monday: closed all day. We rear and produce our own bestselling Aberdeen Angus beef, lamb and pork on the farm and we make homemade cakes, meals, pies, pasties, biscuits, black pudding and scotch eggs, amongst other things, in the farm shop kitchen. We also make all our own sausages (using our own seasoning recipe), dry-cured bacon and gammons.Directions: North Acomb Farm Shop is close to Stocksfield and Corbridge, just off the main A69 Newcastle to Hexham. Turn off the A69 onto the B6309 signposted to Bywell and Stocksfield. From there take a right turn a few hundred yards further on. The Farm Shop is well signposted.

Tyne and Wear