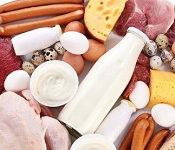 Looking for a farm or ranch for fresh meat, milk or eggs in Sussex, England? Scroll down this page and you will see the aall of thoses in Sussex, England, sorted by county. Some are organic ALWAYS call before you go to confirm the info, they don't always report changes to me!
And if you know of one I missed and want to add it or correct the information, please let me know! There are affiliate links on this page. Read our disclosure policy to learn more.
Updates for October 2023
October It's a pretty normal year for meat, milk and eggs, unless you are in the areas affected by the hurricanes.
Local Meat, Milk and Eggs Listings, by county
Click on Resources above, if you need a county map
East Sussex
Sussex Lamb - lamb
Green Bough Cottage, Green Street, Horsham RH13 8PB. Phone: 01403 741366. Email: julia@sussexlamb.co.uk. Open: see their page. We sell our top quality lamb to private customers delivered straight to your door in our refrigerated van within a 15 mile radius. (Free delivery on orders over £65). If you live outside the 15 mile radius we will charge an appropriate amount just ask when ordering. We have been farming in Sussex rearing sheep and cattle for many years. Our lambs are reared with their mothers grazing the lush green grass of the Sussex Weald. We produce lambs suited to this area using Texel Rams with Suffolk X Ewes which produce a really meaty lamb which matures slowly. We have Lamb available all year and Hogget available form December onwards. Hogget is a mature lamb which after Christmas is known as Hogget.
The Oaks Poultry Farm Farm Shop -turkeys, geese, ducks and capons for Christmas, cafe,
The Oaks Poultry Farm, Common Ln, Ditchling BN6 8TN. Phone: +44 1273 843235. All the meat from the farm is sold through our farm shop, along with other local products, including Sussex Crips, Buxted Apple juice, locally made pies, honey, cheese, chutney, jam, marmalade and flour. The café specialising in home made cakes and locally sourced coffee, opened on 1st June 2019. Our customers enjoy the produce in a friendly atmosphere with both inside and outdoor seating areas.
The children's farm, opened last year, aimed at anyone who loves looking at farm animals. We have an indoor area with a large sand pit, seating area, small animals, including guinea pigs, rabbits, harvest mice and hatchery for chicks and ducklings, then an outside walkway to see pigs, ducks, geese, goats, donkeys and array of poultry animals.

West Sussex
Plaw Hatch Farm - milk, dairy, chickens, lamb, wool,pork,
Plawhatch Ln, Sharpthorne, East Grinstead RH19 4JL. Phone: 01342 810201. Email: INFO@PLAWHATCHFARM.CO.UK. Open: see their page. The Plaw Hatch Dairy herd is central to the health and function of the farm. We have 35 Meuse Rhine Issel (MRI) cattle, with a few cross Ayrshire, Brown Swiss and Montbeliard. We are a closed herd and all of the ladies were born on the farm; mothers, daughters, nieces and grand-daughters.
We have about 380 laying hens. They are housed in 5 different groups of free-range pasture, each with their own house and cockerel. The hens get a fresh patch of grass every month to give them plenty of greens to peck and to keep down any pests that would otherwise build up. Small flocks and regular fresh land keep the vet at bay. The hens are fed on home-grown wheat, barley & oats and organic (gmo free) layers pellets. We currently have Lleyn, Romney and Jacob cross ewes at Plaw Hatch. The ewes lamb outside from late March; we shear the ewes in late May and wean the lambs at the beginning of July. Heritage breed pigs, Tamworths, Durocs, and Large Blacks. They are great for turning the soil and regenerating the land.