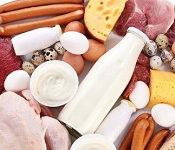 Looking for a farm or ranch for fresh meat, milk or eggs in Central Utah? Scroll down this page and you will see the aall of thoses in Central Utah, sorted by county. Some are organic ALWAYS call before you go to confirm the info, they don't always report changes to me!
And if you know of one I missed and want to add it or correct the information, please let me know! There are affiliate links on this page. Read our disclosure policy to learn more.
Updates for September 2023
September It's a pretty normal year for meat, milk and eggs, unless you are in the areas affected by the hurricanes.
Local meat, milk and eggs ranches and farms, by county
Click on Resources above, if you need a county map
Beaver County
Carbon County
Emery County
Grand County
Juab County
Millard County
Piute County
Sanpete County
Sevier County
Redmond Heritage Farm Store - Raw Milk, cheese, pastured eggs, and Grass-Finished Beef,
5400 North 800 West, Redmond, UT 84652. Phone: (801) 224-0585. Email: mail@redmondfarms.com. Open: call. Our milk comes from healthy pastured cows who eat real food. Our cows have constant access to pasture and enjoy fresh green-grass and sprouted barley, dry hay, Redmond Real Salt and Redmond Clay. Our Raw Milk is not pasteurized and or homogenized. It is a full-fat product that contains no additives. Our milk is fresh from the farm and unadulterated.
Our cows are pasture-fed, meaning they graze freely on green pastures, eating and resting as much as they please. When pastures are not available during the winter months our cows enjoy a roughage based diet with fresh green fodder. We never use hormones or chemical feed additives. We use antibiotics only to save life and if on a rare occasion this occurs the cow's milk is not used for consumption and the cow is sold once healthy.

Wayne County