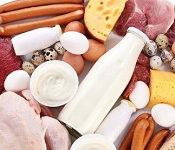 Healthy Version of Quiche - Quiche Lorraine, Mushroom and/or Broccoli Quiche
Click here for a PDF print version
Quiche tastes great... but with heavy cream, egg yolks and bacon, it can be a fat, calorie and cholesterol bomb. Here's how to make quiche that is actually a healthy dish, which would be approved by your doc, dietician or cardiologist. And surprise: it tastes as good as the original!
And it a time of ever-increasing food prices, this quiche is a great value, see the cost summary at the bottom of the page.
Prep time: 20 to 30 minutes
Cook time: 4 0- 45 minutes
Total time: about 1 hour, 20 minutes
Yield: 6 servings
Easy to make!
Ingredients
1 pint container of Egg Beaters, egg or whites (about 12 eggs)
3/4 cup fat free half and half
1 tablespoons butter or olive oil (to sauté the onions and mushrooms)
1/2 cup finely chopped onions
1/2 lb mushrooms, stemmed, thinly sliced
8 pieces of cooked bacon (it's optional... it's the one unhealthy ingredient,; you could use ham, or cooked crab)
1/2 pound - about a half crown of broccoli, chopped, instead!)
1/4 grated Gruyere, Swiss or Jarlsberg cheese - Costco has low-fat versions!
1/2 teaspoon pepper
1/8 teaspoon ground nutmeg
1 medium sweet onion, diced (1/8 to 1/4 sized pieces)
1 pie crust (9 inch),
Equipment
Large (9 or 10 inch) pie dish
Cutting board, knife
Mixing bowl
Measuring cups
Directions
Step 1 - Preheat the oven
Preheat the oven to 350 degrees F.
Step 2 - Sautee the onions and mushrooms
Sautee the onions and slice mushrooms with the butter or oil until lightly golden.
Add any diced broccoli for the last minute.
Step 3 - Grease the pie plate, add the crust.
Grease the pie plate and put the dough in the pie plate.
You can make a pie crust, or if you are in a hurry, use a ready made crust.
Step 4 - Add the dry ingredients to the pie crust
Spread the crumbled, cooked bacon over the crust.
Next add the sautéed onions, mushrooms and/or broccoli.
Finally, put the Swiss cheese on top.
Step 5 - Whisk the eggs, half and half and remaining spices
Whisk together Egg Beaters,
half and half salt (if desired),
pepper, and nutmeg.
Step 6 - Pour the egg mixture into the pie crust
Pour egg mixture into crust.
As a garnish, sprinkle any remaining cheese on top.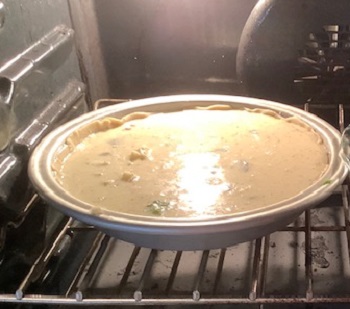 Step 7 - Bake
Bake at 350 F for 40 - 45 minutes or until lightly browned
nd a clean knife inserted in the middle comes out clean.
Step 8 - Cool a bit and enjoy!
That's all there is to it. Let cool for about 10 minutes, it is VERY hot!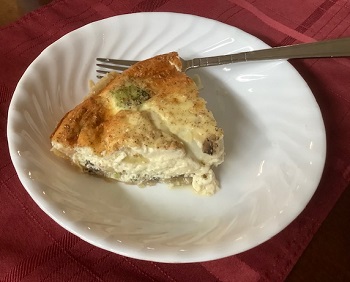 Cost Summary
Prices from November 2022
Pie crust $2
Egg whites - Costco - $2
Mushrooms $2
Bacon, 3 slices, cooked - $1.50
Swiss cheese, 1/2 lbs - $2.50
Half and half, 3/4 cup $1.00
Other ingredients, $2.00
Total, $13 or $2.17 per serving